2022 was a wild year for sustainability! ESG and Sustainability related investment funds faced negative scrutiny, yet the work being done shouldn't stop. Sustainability trends have already been established for 2023 and it is looking to be an important year for this work.
The majority of companies know that climate change is a considerable risk. In the US 94% of companies have publically affirmed the science of climate change and 93% have acknowledged the material risks!
All things considered, building a sustainability strategy can be hard. With this in mind, ScriptString has rounded-up materials on environmental, social, and governance trends to help you out. 
Trend Round-up
Environmental Sustainability Trends

The Ongoing Evolution of Sustainable Business – 2023 Trends Report
This whole ERM report can provide value to the different areas. In general, pages 14 – 25 focus on the main environmental risks being faced and the trends and initiatives companies are following to combat them, these include:
The energy transition
Carbon credits
Electric vehicles and their interaction with supply chains
Nature-related financial disclosures
Paying attention to climate, water, and forest risks
Natural capital reporting
In 2023, Environmental Sustainability Will Become a Strategic Imperative
Forrester has collected the biggest environmental sustainability trends. In this Forbes article, they preview a few of their 2023 predictions!
MSCI – ESG and Climate Trends to Watch for 2023
This report looks at ESG as a whole. Take a look at the table of contents – the sections tagged with climate, biodiversity, and supply chain are helpful to environmental planning.
Social Sustainability Trends

Future of Good – 23 Social Predictions for 2023
Here are 3 that caught my eye that may be useful for you to be aware of:
Polarizing views, divided reactions, and distrust in evidence and institutions will be stronger this year
Impact measurement and reporting will see renewed momentum in 2023 but will have to contend with a critical and emerging issue: data consent
Greenwashing and social washing will be a concern for every company, as ESG scrutiny grows
Corporate social responsibility trends for 2023
They will be helpful to know in making your own sustainability strategies!
Greater emphasis on ROI – especially when looking at consumer behavior and employee satisfaction
Increased need for social impact measurement
Diversity and inclusion set to converge with volunteerism
Jop purposing – employees will seek out more meaningful work
Creating opportunities for underrepresented groups
Increased internal corporate cooperation
Governance Trends

"The number of regulatory initiatives jumped by 37% from 2021 to 2022"
Keep an eye out for changing regulations in your industry! Governing bodies continue to recognize that this is necessary. Regulatory initiatives will likely increase in the coming years.
ESG Is Changing Boards. Investors Should Look Closely
For some helpful tips on what to watch out for from a governance standpoint to ensure investors are choosing companies focusing on improving ESG and making the business changes that will make you more attractive to investors (hint – it starts with the board 👀).
My favorite tip – be wary of companies trying to focus on everything or doing so without involvement from their board – it likely isn't possible.
Your Own Sustainability Strategy
These trends can be a great start to helping you build out your own sustainability strategy, but what happens after that?
In order to report on your sustainability you need to know where you are starting and be able to track your progress to report on it.
ScriptString helps with this by ensuring your data is harmonized and ready for a seamless reporting process.
Best of all – you can start today, for free, with our Sustainability Scorecard. Assess your sustainability quickly with a 60-minute survey and get results benchmarked against the UN Sustainable Development Goals (SDGs).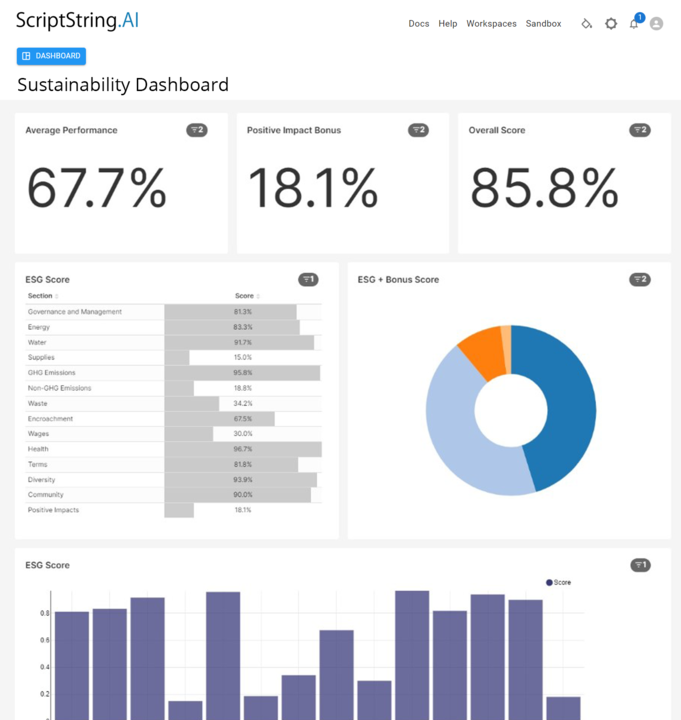 Register now and start to refine your sustainability journey with ScriptString.AI!