Product Update
We're excited to announce our latest product update focused on making your ESG, impact, and financial data integrations easier than ever. ScriptString.AI helps you seamlessly connect all of your files and data sources, which can save time, reduce the need for additional staff, improve decision-making, and reduce the risk of errors or omissions in reporting. Our growing list of integrations includes:
Google Sheets
MS Excel
DealRoom
Box
Dropbox
QuickBooks
…and more!
We understand the importance of ESG and impact data in today's world and ScriptString.AI is equipped to handle all of your sustainability and financial data management and reporting, no matter the source, eliminating time-consuming data cleaning and consolidation tasks to give you and your team time back.
With all your data connected, ScriptString.AI's reporting automation delivers end-to-end, real-time ESG and Impact reporting on demand. Simply plug in your data, and let our automation workflows do the rest.

And the best part? You can try our Sustainability Scorecard for free!
Events
What we've been up to…
Our CTO, Warren Gedge, spoke at the conference for data centers. The highlights include that the landscape for data centers and sustainability matters is not that different from other sectors:
The C-suite needs to prioritize its sustainability initiatives based on ROI and business value creation
The focus is primarily on the environmental KPIs with increasing awareness of social and governance, however, do not have consistent KPIs across the industry
Change drives include executive compensation incentives directly tied to corporate sustainability goals
Take a peek at these awesome events and releases happening in the near future!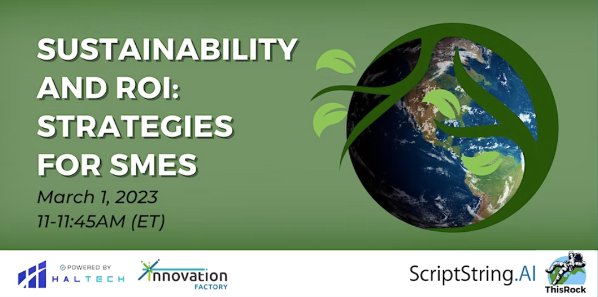 Sustainability and ROI: Strategies for SMEs
Join us tomorrow, March 1st at 11 am, as we explore the latest trends in sustainable business practices and their impact on the return on investment.
Don't miss this opportunity to learn from the best and stay ahead of the curve in the ever-evolving world of sustainability and ROI.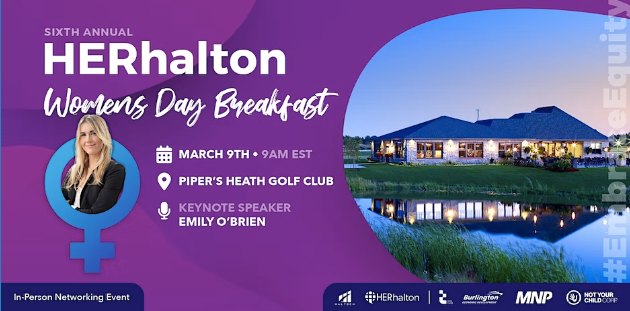 HERhalton International Women's Day Breakfast
Join HERhalton for their 6th annual Women's Day Breakfast on March 9th to have honest discussions while they #EmbraceEquity and celebrate their entrepreneurs!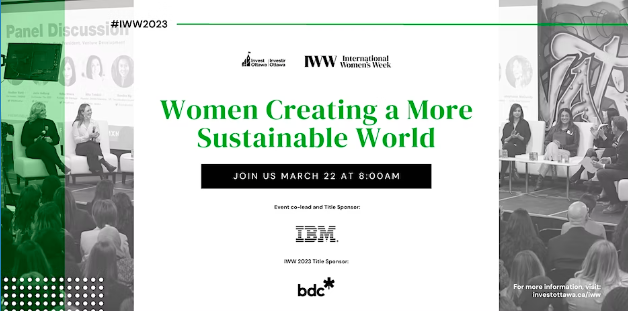 Women Creating a More Sustainable World
Join Invest Ottawa and IBM for inspiration and actionable insight from leaders making a positive economic, social, and environmental impact on our world. This event will be hosted in Ottawa on March 22nd and is a free event – click here to register!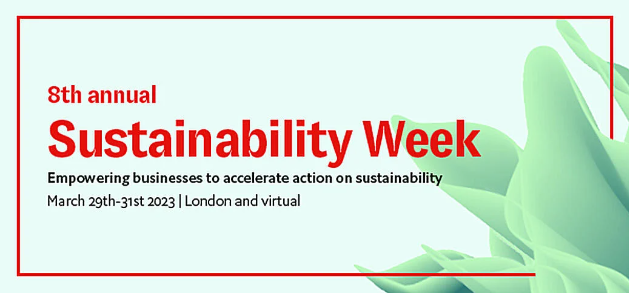 The Economists 8th Annual Sustainability Week
The 8th annual Sustainability Week focuses on helping businesses become sustainable faster! Alongside the in-person event in London, England, the Economist is hosting a one-day free virtual event on March 29th.

What We're Reading
ESG: EU Regulatory Change and Its Implications
Dig into this Harvard article looking at the EU regulatory changes. If you are a non-EU business doing work in the EU these regulations will likely affect you. For all other businesses, it is good to familiarize yourself with the regulations as similar changes are likely coming soon to other regions!
ESG and DEI Reporting Templates for Canadian GPs
BDC recently released ESG and DEI reporting templates designed to help Canadian investors and entrepreneurs track key metrics at a firm, fund and portfolio company level.
Sustainability Trends to Help With Your 2023 Strategy
Our latest blog post takes a look at 2023 environmental, social, and governance trends to help you build the most comprehensive sustainability strategy possible!

Sustainability Matters
A message from the CEO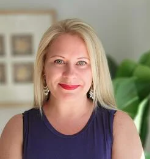 As we continue to push the boundaries of AI-driven sustainable software development, I wanted to take a moment to celebrate our commitment to creating a positive work culture.

At our core, ScriptString believes in inclusivity and diversity. We believe that the inside of our company should look like our society. That's why we have set a goal to have 50% of our employees to be female by end of 2024. To make sure we're on track to achieve this goal, we're tracking our employee diversity by gender and measuring it quarterly through internal reporting. This will give us a clear picture of our progress and help us identify any areas that need extra attention.

As women in technology, our company goal is not just about numbers. It's about creating a workplace culture that inspires and supports other women in tech + sustainability. That's why we're committed to organizing and supporting events that showcase the achievements of women in our industry and provide networking opportunities for our female employees.

I'm proud of the progress we've made so far, but there's still a lot of work to be done. We continue to challenge ourselves to do better and create a more inclusive and diverse workplace.

Thank you to our employees for your hard work and dedication to our mission.