At ScriptString we love partnerships! Working with others to drive innovation, increase accessibility, spread awareness, and create a culture of change together is very important to us.
ScriptString started in 2019 to create a helpful data management tool for performance-driven teams. With our team's combined 100+ years of experience in data transformation, we discovered universal data challenges across industries and set out to provide a top-tier solution.
Fast forward to today, with purpose driving us, our AI-driven data platform ScriptString.AI is designed to enable businesses to make real-time decisions and save them money while addressing the biggest issues facing humanity and the environment today.
Committed to innovation, we are always working to provide the best solution possible for organizations dealing with sustainability data challenges. ScriptString.AI platform is user-friendly, scalable, affordable, and a proud sustainable software supplier.
We understand the severity and complexity of issues facing our world. We applaud the businesses stepping up and incorporating sustainability into their strategy. However, we also know that one business cannot fix the issues at hand alone and cannot provide businesses with the tools needed to succeed.
The Importance of Partnerships in the Sustainability Space
Partnerships have become vital tools in advancing sustainability goals, encouraging cooperation that sparks positive change worldwide.
Some businesses are realizing the potential of partnerships to strengthen sustainability commitments. For instance, they've made significant strides in recycling packaging materials, adopting sustainable fishing methods, and reducing methane emissions through collaborative efforts.
Partnerships also simplify sustainability implementation, addressing common obstacles. Innovators offer technological platforms that guide businesses in effective initiatives, making processes easier and amplifying results. Data insights and continuous assessment allow for refining strategies and measuring progress, ensuring ongoing enhancements.
Furthermore, partnerships increase awareness and drive broader change. Collaborative marketing efforts have led to new alliances and inspired entire industries to reflect on their practices, demonstrating how partnerships can drive transformation by educating and influencing responsible consumer choices.
Businesses championing sustainability motivate their peers and stimulate consumer demand for ethical practices. As more companies join these efforts, the combined impact grows, fostering a sustainable mindset that goes beyond individual actions. Each joint initiative contributes to a more sustainable future, where partnerships act as catalysts for enduring positive shifts.
What Partners Can Look For In Us
At ScriptString we have already partnered with a variety of organizations in the ways of technology, referral, and educational partnerships. For partnerships to work, not only do we look for something special in our partners, but we want them to find something special in us. Let's dig into some of the things partners can look for in us!
Expertise
Our team is built on many years of experience in the data management space. We understand the challenges and have built a product to address them. Each individual on our team brings expertise in a different area, that when put together helps us to provide the best experience possible, after all, it is in our values. Check out one of our client testimonials below and see how this is reflected in our outcomes!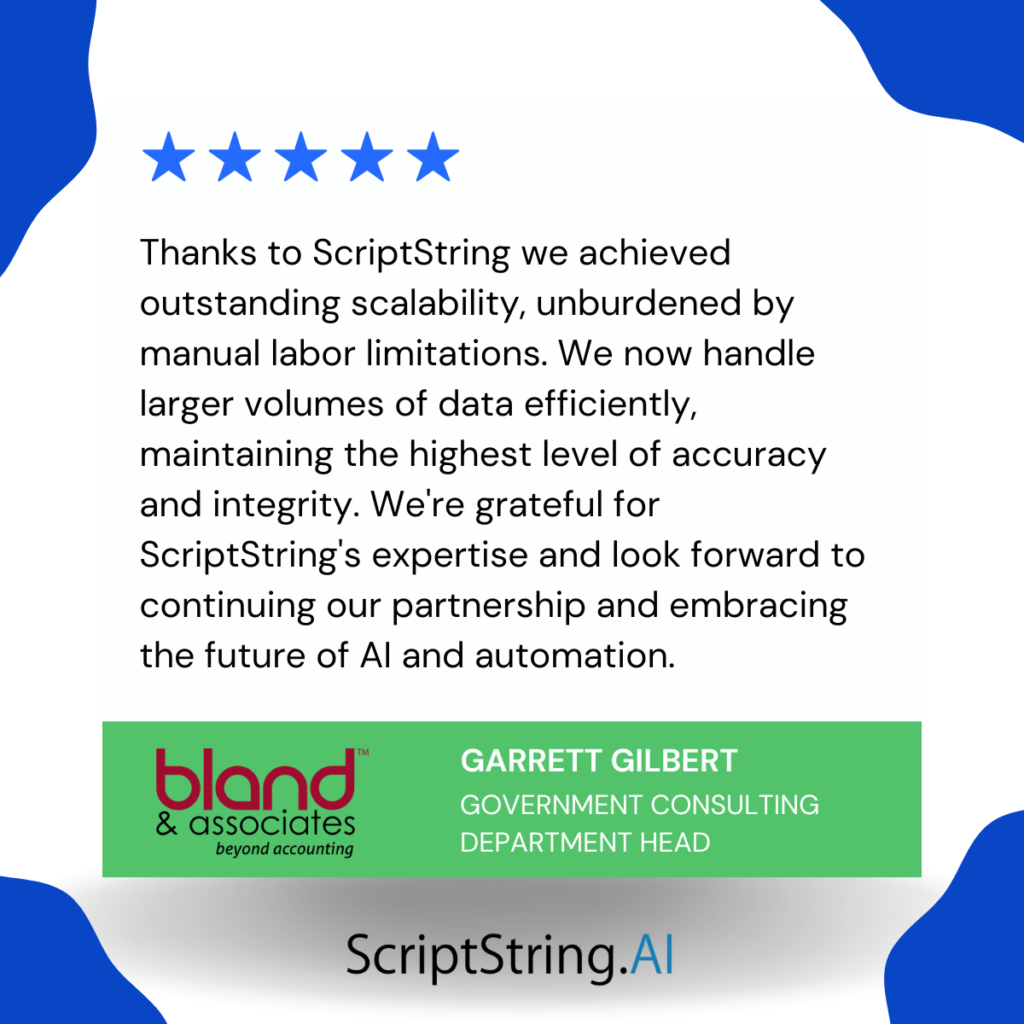 Our Business Values


Innovation & Continuous Improvement
We are committed to continuously improving our product and innovation. Working with technology partners we have expanded our ability to do this and provide the best outcome possible.

Impact Focused
We have set out on creating a product to aid businesses in doing better for the world and its people. This purpose is something we hold close to us at ScriptString as we strive to make an impact in the world through our technology.
The Platform
Our objective is to provide a one-stop seamless sustainability data management solution that digitizes the manual processes of processing data while bundling decisions, reporting sustainability progress, and reducing costs and waste, while continually monitoring progress.
Integrating AI into the data capture process significantly enhances efficiency and security. AI algorithms can be trained to recognize various types of data inputs and extract relevant information. This automates the data entry process and reduces the chances of human error. Removing the mundane steps allows for greater attention to vendor mistakes and detecting cost reduction opportunities.
Moreover, using AI can provide secure and transparent expertise, providing a high level of security and reducing risks. Organizations can improve accuracy, speed, and security, while also reducing costs and improving stakeholder satisfaction.
Whatever the company is focusing on from a sustainability perspective we can streamline the processes of tracking and reporting. Whether tracking specific KPIs, reporting to frameworks or regulations, emissions calculations, peer benchmarking, or just getting started building out your sustainability plan, our platform can be tailored to each company's specific needs and goals. With a high quality of service, our customers come first and we will work with them to optimize their sustainability success.
What We Look For In Partners
At ScriptString we are always open to new partnerships, we believe in collaborative efforts to further our mission and the organizations we partner with.
Alignment
When scoping potential partnerships we need to find alignment with the businesses we are looking to work with. As helping others on their sustainability journey drives our business and provides purpose we want partners who also value sustainability and want to help their clients prosper in this sense. Do you share the same values that we mentioned above?
Use Cases
We want to grow and prosper together! We are involved in multiple partnerships that each differs in the way that we work together. Check out some examples and insights below!
Technology Partners
We have many technology partnerships underway already, including Microsoft, AWS, and Siemens.
For each of our technical partnerships, we are or are soon to be in the Partners Founder's Marketplace and have worked with the partners to deploy our software onto their hardware, prove it out, and be able to resell and cross-sell across all their product lines.
We are vendor agnostic and work from the connection and cryptographic layer up, and to prove it we partnered with multiple vendors to ensure full interoperability and access. All Partnerships are pre-qualified as a software vendor or a technology partner which is difficult to qualify for, with a long validation process and extensive criteria requirements.
Awareness and Educational Partners
As sustainability drives our purpose, we love to take part in events and opportunities that can further spread awareness for business sustainability and make it more accessible for businesses to integrate into their strategy.

Therefore, we often partner with others to participate in educational webinars, host events, and overall drive sustainability participation. With the talent on our team, we have lots to share in this space! We are also always looking for sustainability leaders to participate in webinars with us – leading to thoughtful discussions and expanding solutions.
Referral Partners
Do you see potential in our solution to help your current clients? As a referral partner, you can empower businesses to drive positive environmental change. By referring to the platform, you enable companies to efficiently collect, analyze, and report sustainability data, fostering informed decision-making. Your clients can easily track energy usage, waste reduction, and carbon footprint, aligning with ESG goals. Through this partnership, you contribute to a greener future. Join us to promote sustainable practices, and amplify corporate responsibility, all while advancing the global sustainability agenda. If becoming a referral partner is of interest to you – reach out to learn more about the joint benefits of this type of partnership!
Contact us to Chat More About Partnerships
When it comes to partnerships, ScriptString is always open-minded. If we seem like a good fit and you want to expand your business to include meaningful partnerships for sustainability we would love to chat!
Contact us today to book a demo and see how our platform can work with you, or reach out to our Sustainability Specialist for more materials and information to get started on a partnership together.

Let's make business sustainability accessible!